Playoff Event #1
The Barclays
Ridgewood Country Club
Paramus, New Jersey
$8.25 million
FIRST ROUND:
When it came to Fed Ex points, the replay didn't differentiate between those who were Fed Ex eligible, as in regular PGA Tour members, and those who showed up occasionally and did pretty well, like a Rory McIlroy, who actually was Fed Ex eligible, but there were others, like Victor Dubuisson, who weren't. So, this field is wide open.
Some notable additions to the 125-man field (in alphabetical order): Jamie Donaldson, Victor Dubuisson, Sergio Garcia, Retief Goosen, Branden Grace, Martin Kaymer, Graeme McDowell, McIlroy, Louis Oosthuizen and Danny Willett.
There are some Tour members who didn't make the actual playoffs but will here. Also in alphabetical order: Blayne Barber, Ricky Barnes, Martin Flores, Alex Prugh, Jonathan Randolph, Chez Reavie, Patrick Rodgers, Sam Saunders, Brian Stuard, Michael Thompson and Nicholas Thompson (no relation, though Michael is Lexi's brother).
In addition, yes, the 2015 Barclays was played at Plainfield. But that's a quick play course and Ridgewood, which hosted the 2014 version and which compares favorably to Plainfield (as Ridgewood is a A. W. Tillinghast design while Donald Ross' fingerprints are all over Plainfield), as opposed to the 2016 host, Bethpage, which is another kettle of fish even though it's a Tillinghast design and, after you've played it, you feel like you've gone through the wringer. So, Ridgewood it is.
Henrik Stenson is the first round leader after a round of 7-under 64. Twelve fairways (and they're tight here), fifteen greens, 3/3 in scrambling including two out of the sand and he birdied two in a row only twice and also had an eagle at the par-five third when he used a pair of 3W to reach the front of the green at the 563-yard hole, which is where the pin was, then made a mere six-footer for his "3."
Chad Campbell is next at 65, which was amazing because he hit only ten greens. He birdied a couple on solid approaches–eight feet at one, five feet at five. He made a couple lengthy birdie putts—24 feet at ten and 23 feet at sixteen. And he also eagled the longest hole on the course, the 616-yard thirteenth when he laid up short of the green and holed out from 46.
After those two, it's Shawn Stefani, Sean O'Hair and Cameron Tringale at 66 and nine more at 67: William McGort, Carl Pettersson, Ryan Moore, Russell Knox, Russell Henley, Chez Reavie, Ian Poulter, George Coetzee and Billy Horschel.
SHOTS OF THE DAY:
There were three eagles at five, a par-four of only 295. It's drivable, but the green is narrow, raised and surrounded by a half dozen bunkers and all three eagles came from players who didn't go for it. Most didn't, by the way, as a few will save it for the cut line or if they're in contention and the risk/reward says driving the green might be worthwhile. Kevin Na holed out of the rough from 106. He shot 68. Jason Dufner holed out from 73. He's at 1-under. And Paul Casey holed out from 75. He shot 71.
Justin Rose at seventeen. A par-five of 579, it's made more difficult in that it's a dogleg left with the second shot a club uphill and to a very small green. The large, safer landing area on the drive is to the right making the hole play even longer. Rose flirted with danger down the left side as that's a lateral hazard not far off the fairway. After a 315-yard drive, he missed just short with a 3W from 260+, then holed a short-sided pitch of less than 20 feet. Rose shot 68.
WILL WILCOX:
He gets his own little chapter as he started the day with five consecutive birdies. The first two were hit close (five and six feet) and he also made a 31-footer at four and eleven at five. And the third is a par-five. And it's a good thing he had that early -5 under his belt as he seemed to lose his edge after that, either missing greens or hitting on the wrong side of them. He birdied the back nine par-fives but also had four bogeys starting with a missed fairway and green at six. And 5-under became 3-under and a round of 68.
PATRICK RODGERS:
He gets a little chapter, too. 3-under through sixteen, he had a decent round going. Then came the seventeenth. Pulled into the hazard off the tee, he dropped but could only advance his ball just past the corner of the dogleg. With a good chance to get on or close from 231, he pulled a 3I under the trees. It took him three to get on as he had to hit low and got hung up in the rough. Then he two-putted for a quadruple-bogey nine. He followed that by hitting into the fairway but under the tree canopy at eighteen, clipping the branches with his second and making bogey. So, 5-over for his final two holes and Rodgers finished with a 73.
SECOND ROUND:
Henrik Stenson maintained his lead, stretching it to three shots after a round of 5-under 66 that moved him to -12.
It took 28 holes for Stenson to post his first bogey. That came at the slightly downhill 247-yard, par-three tenth when he over-cooked a 4I, even with the pin back right, which makes you wonder what he was cooking. In the bunker, he couldn't make the sand save. But, after a scramble par at eleven, Stenson birdied four of the next six including dropping lengthy putts at twelve (31 feet) and sixteen (33).
Jason Day shot the round of the day with a 65. Would have been 63 if not for that double-bogey at eighteen.
Day started his day off quite well. Two-putt par at one. OK, no big deal. Then, 5-under in the next four holes including an eagle at the drivable fifth when his driver landed just short at the 280-yard hole and hopped on, rolling to within six feet of the front pin location. 8-under through seventeen, Day hooked his drive out of bounds, reloaded, got caught under the tree canopy with his third and took five to get to the green, salvaging double-bogey with a ten-foot putt. Day could have been in second at -10. Instead, he's -8.
Cameron Tringale is the man in the middle at -9 as he followed yesterday's round of 66 with a 67. He had a fun time at the par-threes. At the 225-yard eighth, his 5I rolled five feet past the hole. Ten was a near hole-in one, with a tap-in for birdie. Finally, at fifteen—the easiest of the lot at a buck forty-eight, Tringale pushed the heck out of an 8I. It happens to the best of them. 23 yards to the right of the pin, Tringale pitched in for birdie.
Chez Reavie, who had a better year than actual and earned his way into the alternate universe playoffs, is tied with Day for third at 8-under after his second consecutive 67. Reavie's kept himself in the game by hitting 29/36 greens including a couple close ones including at seven (five feet) and fourteen (six feet).
The rest of the top ten consists of six at -7: Daniel Berger (66), Colt Knost (66), Keegan Bradley (67), Harris English (67), Sean O'Hair (69) and Shawn Stefani (69).
SHOTS OF THE DAY:
Day's eagle at five is one. And Tringale had two. And Dustin Johnson had one, also at five. And he hit it two feet closer than Day, converting from four feet for eagle.
Unfortunately, that was the good news for Johnson as he's had trouble in the middle of the round both yesterday and today, as in 9-over between the sixth and twelfth and it cost him a check and some Fed Ex points as he missed the cut by a shot at 1-over.
THE CUT LINE:
Even-par with 80 getting paid.
Leaving on the early Amtrak for Boston–besides Johnson–include Bubba Watson, Jason Dufner, Lee Westwood, Louis Oosthuizen, JB Holmes, Adam Scott and Jamie Donaldson.
Of the fourteen tied for 67th, only two made birdie on the final hole to make the cut. Rory Sabbatini parked a 7I from 172 to just two feet. And, after bogeys at fifteen and sixteen, Adam Hadwin birdied the next two to limp in. At seventeen, he got up and down at the par-five from 50 to four feet. Then, at the last, he sank a fifteen-foot putt.
THIRD ROUND:
At 2-under, or just three shots from an early trip to Teterboro and a private jet to Boston, because God forbid he should get caught dead on an Amtrak, Rory McIlroy got an early start. He shot the day's best 65 and, at 8-under, was tied for fourth but was also off the course before anyone in the top ten teed off. And, son of a gun as only four golfers passed him by.
Solid if otherwise uneventful bogey-free round for McIlroy, who had to scramble only twice. Well, it was uneventful until a strong finishing kick over the final six holes. Thirteen is a long par-five of 636 that even he couldn't reach. So he did the next best thing by getting up and down from 69 to six feet and a birdie. Par at fourteen. Thirteen feet for birdie at the par-three fifteenth. Sixteen feet for par at sixteen. Long bunker sand save (30 yards) for birdie at the lengthy par-five seventeenth. Par at eighteen. So, 2-under for the first two-thirds of the round became 6-under 65.
Two-round leader Henrik Stenson backed up with a 73. The good news is that he's tied for second. The bad news is that the three-shot lead he had now belongs to someone else–Harris English. Stenson had one bogey in the first 36 holes. He had three today, including a double-bogey disaster at thirteen. 300+ down the middle off the tee. Good. Pulled his second. Bit of a flyer with his third, just going off the back of the green and avoiding the bunkers. On in four and a three-putt, including missing what looked like a tap-in that would have salvaged bogey.
As noted, English is now the man at the top after equaling McIlroy's day's best round of 65 to move to -13 and lead Stenson, Colt Knost and Keegan Bradley by three.
And to think English had two bogeys. The first came at four when he pushed his tee shot and had no line to the green. The other came at the par-three eighth when he missed just short of the green and then missed from six feet to save par. That's the bad news. The good news was that, on his six par-three or four birdies, three were on approaches within eight feet. He also knocked it a 3-footer to close out the front nine. But what merited serious consideration for the shot of the day came at the par-three tenth. After a pulled 5I at the 222-yard hole that rattled among the tree branches and fell in the bunker, English was looking at a 55-foot short-sided shot. That he feathered in perfectly, bouncing once on not too much green to work with before landing in the hole.
Bradley and Knost shot 68.
Bradley bounced back off two bogeys, leaving himself with a spring in his step as he birdied the final two holes. In the rough with his drive at seventeen, he got up and down from 113, sinking a thirteen-foot putt to do so. Then, at eighteen, it was a 317-yard drive right down Broadway and a 9I from 160 to seven feet.
Knost scrambled successfully four times in a bogey-free round. That makes two in a row as his only bogey this week came at the ninth on Thursday. The highlight of his day migth have been the par at the last. A bit right and into the trees, Knost hit a low 4I that ran up onto the front of the green and he lag putted beautifully from 56 feet.
Daniel Berger (70) is tied for fifth with McIlroy at -8. The rest of the top ten consists of a foursome tied for 7-under: Zach Johnson (67), Sang-moon Bae (67), Brooks Koepka (68) and, a disappointment after a 65 yesterday, Jason Day with a 73 which included a pull hook at the par-five third where he had to take a drop and followed that with a three-putt leading to a double-bogey.
SHOT OF THE DAY:
English's hole out at ten would have earned the honor if not for John Senden at eight. 217, par-three and with a 5I. And the ball…rolls…in! With two other birdies canceled out by two other bogeys, the hole-in-one made the difference between par and 2-under. He's at -4 for the tourney. That's the fifteenth ace of the season by fourteen different golfers with Daniel Summerhays connecting twice.
FINAL ROUND:
It was yet another pristine day–four in a row–at Ridgewood. Ah, but the sun always shines in Ridgewood. At least that's what the people who live there think as the folks in neighboring Glen Rock (my home town) look at the Ridgewood folks as a snooty lot. But, then again, Ridgewood Country Club only used to be in Ridgewood (and part of Glen Rock) until the mid-1920s. It's now in Paramus, which in the native Lenni Lenape language means "land of shopping malls."
Harris English came in with a three-shot lead. He sputtered at the start with birdies at one and three sandwiched around a push into the bunker at the par-three second and a bogey. So, 1-under very early in the day–not too bad. But he ran into trouble at the drivable fifth and again at six. At five, English elected to lay back and take his chances getting up and down. But he pulled his drive just a bit, his ball rolling into the rough. His second came up short of the front pin placement. Buried in the rough, his chip barely limped on and he missed from ten feet for par. Six was a drive pushed into the trees, which are many here, and no line to the green. The chip out of the rough was short and he missed from thirteen feet to salvage par.
Now at 12-under, Colt Knost, playing in the pairing immediately in front, pulled even before grabbing the lead.
Knost dropped a seventeen-footer for birdie at one before struggling a bit but not losing ground. Routine par at two. At the par-five third, it was deep in the rough on the first two, eventually on in four with a six-footer for par. Four was a pull into the trees off the tee. He thought he could get home with a 5I from 192 but clipped the overhanging branches. But he got up and down from 86 to four feet. At the 282-yard fifth, he got up and down from 62 to six feet and a birdie to get to 12-under. Long two-putt at six (76 feet and almost in) and a scramble out of the bunker at seven, both for par, before dropping a 22-foot birdie putt at the par-three eighth and hitting to five feet from 192 at nine and another birdie to get to 14-under.
As English had parred the final three on the front nine, Knost's lead was two over him, Henrik Stenson, who shot a 2-under front side, and Dustin Johnson, who reeled off five birdies on the front nine, including nearly holing out from 65 yards at five and following that with a 46-foot birdie at six. In addition, Brooks Koepka, who was playing four pairings in front of the leaders, was 4-under on the round and 11-under after eleven and which included his trying to drive the green at five, landing in one of the six bunkers surrounding the hole and making a sandy for birdie.
Though it was Knost with the lead, it was Koepka who was setting the pace. He birdied the par-five thirteenth getting up and down from 66 and converting from thirteen feet. With the pin in the back left at the 162-yard fifteenth, Koepka parked a 9I to four feet under the hole and another birdie. He had birdie opportunities over the final three holes with putts of ten, twelve and sixteen feet and missed them all. Even so, he was the leader in the clubhouse at -13.
Johnson three-putted for bogey at eleven but parred the rest with little serious opportunity for birdie. He blew a good chance at thirteen when he under-clubbed his approach from 84 and landed in the deep rough between the large front bunker and the green. His chip barely limped on and he salvaged par from eleven feet. Then, at fifteen, he flew the green, landing in the back bunker. His sand shot ran away from him a bit but he made the twisting uphill eleven-footer to save par. Johnson would finish at 11-under.
So, we're down to the final two twosomes–Knost and Stenson playing in front of English and Keegan Bradley. Bradley never did get his engine started, two birdies and a bogey and a final round of 70 seeing him finish a stroke ahead of where he started at -10. But a top ten finish saw him move to 30th on the points list, so he'll stick around for at least the next two playoff events.
14-under after nine, Knost would rather forget the first four holes on the back nine. At ten, he bounced off the back of the green into very deep rough and failed to get on the green with his next shot, eventually making double-bogey. He parred the eleventh after his 3I approach out of the rough rolled more than 50 feet past the hole. At twelve, his drive clipped the trees and he had about 70 yards more of approach that he didn't bargain for. So, from 250 to a small green with a bunker in the front that plays as a par-five for the members, Knost took his chances and laid up. Trying to get up and down from 69, he missed from ten feet to save par. Then, at thirteen, after a short drive and after putting his second into the rough, Knost was 112 out. Getting a bit more grass than he wanted, he came up short, chipped on rather well but rimmed out from five feet to save par. Now at 11-under, Knost parred the rest of the way in never giving himself any good opportunities for birdie.
Now for the lead pairing.
12-under at the turn, Stenson three-putted from long distance at eleven, missing from five feet to save par, before making birdie at the next two on putts of eighteen and twelve feet. Meanwhile, English hit to two feet from 162 at eleven to join Stenson at 13-under.
But English almost did himself in at thirteen. Nice drive, but he may have made a poor selection by using a 3W for his second, pull hooking it, his ball landing only a few yards from George Washington Cemetery. Needing to hit a low shot from under the trees, English just missed the front of the green in three. On in four and not too well, he not only missed from thirteen feet but ran his downhill putt six feet past and missed that, too, a double-bogey slapping him down two strokes, that symbolism of the near hit into the cemetery not lost on him.
But English came clawing back starting with an eighteen-foot putt for birdie at fourteen followed by two regulation pars where he didn't threaten the hole followed by and up and down from 65 out of the rough for birdie at seventeen.
In the meantime, Stenson played army golf at thirteen but managed to salvage par on a tremendous pitch from 80 feet off the short grass in front of the green that nestled a foot from the hole. After that, Stenson seemed content to go for the center of the green and make par for the next three holes.
But, as English birdied the seventeenth, so did Stenson as, after a pulled PW from 132, he sank a 24-foot putt to take a one-shot lead going into the last.
It was English, needing either birdie or Stenson to falter, who had honors. And he drilled a beauty of a drive–338 and in the left center of the fairway. Still under the edge of the tree canopy, it wouldn't be a factor on his approach, which was only 128.
And Stenson faltered, pushing his drive well into the trees. With no line to the green, he hit out to the fairway, advancing his ball to within 60 yards of the green.
But English pushed his approach. Getting the distance with two yards, he was 30 feet right of the pin. Still he had a birdie opportunity, however slim and, if Stenson couldn't get up and down, it would be a three-man playoff.
But, from 59 yards, Stenson nearly holed out, a choked down wedge taking one hop and skidding to a stop just a foot from the hole. But he missed one from that distance only yesterday and that was certainly in the back of his mind. But English hit his putt just a bit too hard and ran his birdie effort just past while Stenson gave little thought to his very short putt, lest yesterday's miss bounce around his head, making par and winning by a shot.
So, Stenson (67) wins it by a shot at 14-under over English (71) and Koepka (65) with the rest of the top ten at -11, including Jerry Kelly, who got an early start and shot the day's best 63. The other eight were William McGirt (65), Carl Petterson (65), Steve Wheatcroft (66), Jason Day (67), Zach Johnson (67), Daniel Berger (68) and Knost and Bradley with 70.
SHOTS OF THE DAY:
Kevin Na at five. Electing to lay back, he holed out for eagle from 64 on his way to a 2-under 69 and -3 for the tourney.
Patrick Reed at nine. Landing in the left rough between the fairway and a well-placed bunker, Reed went with a 7I from 169. He landed about twenty feet onto the green and rolled up and in for eagle. With a 68 today, he finished at 7-under.
REAL LIFE:
With a final round 62, Jason Day won by six at 23-under. In the replay, he tied for fourth at -11.
Henrik Stenson played well, finishing second at -17, or three shots better than his winning score in the replay.
Those were the only two common names in the top ten.
THE POINTS RACE:
Everything is made up and the points don't matter. No, sir, this isn't "Whose Line is it Anyway?" The points do matter.
We have a little problem here as it appears the playoff events are scored at five times the regular season rate, which was the case until 2014. Starting in '15, it went to four times. So, where Stenson should have gotten 2,000 points for the win, he got 2,500. That difference vaulted him 20 spots into first place ahead of Jordan Spieth, who picked up 272 points for finishing tied for fourteenth.
Koepka and English punched their tickets for East Lake though, at 12th and 19th coming in, they were pretty well assured anyway. Now, they're 3rd and 6th.
Those who started this weekend outside of the top 100 who made it inside the top 100 and will be playing in Boston next week: Hudson Swafford (102 to 100), Carl Petterson (108 to 53), Stewart Cink (110 to 78), Sang-moon Bae (118 to 80), Boo Weekley (120 to 98), Fabian Gomez (123 to 74) and David Lingmerth (125 to 77).
That means seven in the top 100 got bounced: Johnson Wagner (100 to 111), Troy Merritt (98 to 103), Bill Haas (97 to 102), Brian Stuard (96 to 107), Danny Willett (95 to 105), Jason Dufner (94 to 104) and Martin Kaymer (91 to 101).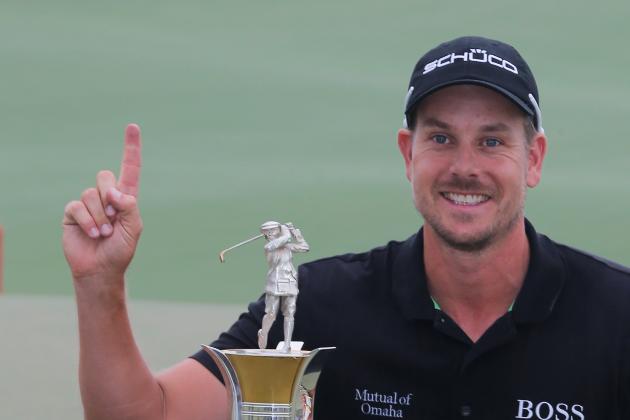 HENRIK STENSON (-14)
He's number one…for now. 
Playoff Event #2
Deutsche Bank Championship
TPC Boston
Norton, Massachusetts
$8.25 million
FIRST ROUND:
Justin Rose is the first round leader with a 7-under 64. And to think he had two bogeys. But he also eagled the second as he chose the "all carry" route of 238 out of the first cut and sank a ten-foot putt. For those less daring, they can make it a three-shotter, still with some carry. But with a three-quarter wedge, who cares? Rose finished strongly with birdies at three of the final four holes including the par-five eighteenth, also all carry on the approach, be it the second or third shot. Rose went for it with a 3I from 236 and may have actually pushed his shot a bit as the safer play from that far out is to the fat part of the green, not over a tenuous bunker that fronts the right three-quarters of the green to a pin not terribly far behind it. Though these guys are pretty good out of the sand, unlike we mere hackers. Maybe it was a good miss.
Branden Grace, Dustin Johnson and Matt Kuchar are at 65.
Grace finished with three straight birdies, taking the three-shot route at eighteen. Safely on from 110 but not too pretty, he sank an eighteen-footer for birdie.
Johnson got off to a fantastic start which would have been more fantastic if not for hitting one club long at the par-three third, going off the back of the green and coming up short on the chip, because he played 5-under on the other four, including an eagle at two as he landed safely on from 226 and sank a 24-foot putt.
Kuchar also eagled the second. As three of the top four made "3" there, you'd think that lots of guys were doing it. But there were only three others. Kooch was real ballsy–a 3I from 253 that rolled five feet past the pin.
Three are tied at 66: Charles Howell III, Patrick Reed and Rickie Fowler. Howell and Reed are at 59 and 65 on the Fed Ex list, respectively. As the top 70 make it to the next plateau, unless there's a lot of action from 71-100, they look good for next week at Butler National.
[Yes, the 2015 BMW was held at Conway Farms. But (a), it's quick play and (b) it's not the tourney's permanent home as it's on a rotation, kind of like the Barclays. That tournament used to be the Western Open and was previously held at Cog Hill (quick play) and, before that, Butler National. As the BMW, it was also held at Cherry Hills in Colorado and Crooked Stick, which is where John Daly won his first major, the PGA, as something like the final alternate. Both of those courses are quick play. Among the lot, only Butler National is a shot-by-shot course. So, exclusion be damned (the powers that be wouldn't capitulate to the PGA or anyone else and let in anything other than white males and animals that could sneak under or through or fly or climb over the fence) and the course will host the third playoff event.]
Back to the 66 crew… Of the three, Fowler, who should have played better this season, is in real trouble. He came in to this week at #82 after missing the cut by a shot and dropping from #67 (meaning he could drop off the Billboard Top 100). Seriously, to get into next week, he'd likely have to pick up at least 150 points. 100 would get him there now but, as there are a dozen between him and 70, 100 might not be enough. Translation: Anything worse than than maybe 32nd or 33rd this week and he's toast. For the record, he actually won this tournament in 2015. If art imitates life, he'd be guaranteed a tee time at East Lake.
The rest of the top ten consists of eight at 67: Colt Knost, Matt Jones, Brooks Koepka, Chris Kirk, Phil Mickelson, Harris English, Bubba Watson and Keegan Bradley.
HARRIS ENGLISH:
English, who finished tied for second last week at the Barclays, seemed to carry it over to today as he birdied six of the first seven holes, including a couple of close approaches and, taking the three-shot route at two, nearly holed out from 88 and also taking the three-shot route at the par-five seventh, missed long but chipped in from 35 feet.
And then he went flat with pars at the next seven, including a couple scrambles. Then, at fifteen, he came up short from out of the rough on his approach and made bogey. He went right of the green at the par-three sixteenth (left is water, short and left, too, for that matter) and couldn't get up and down. He dropped a thirteen-footer for birdie at seventeen, which stopped the bleeding for a few minutes. Then, at eighteen, he went for the green in two from 259 and pulled his ball into the hazard. Four on, two-putt, six, and a 4-under 67, which could have been worse but rounds end here after eighteen holes. Let's see which English shows up tomorrow.
SECOND ROUND:
Including the Barclays, conditions have been pristine for the first six rounds of the playoffs. And that led to some more good shootin' as the aggregate was 2 ½ shots under par.
And the man who did the best job of lighting up the scoreboard was last week's winner, Henrik Stenson, with a round of 11-under 60. That got him to the top of the leaderboard with Charles Howell III, who did pretty well himself with a 63, both at -13.
Stenson, who missed but one green today, dropped seven putts of ten feet or more including a 52-foot bomb at fourteen. And the one green he missed came at the par-three sixteenth. With a tight front left pin location, meaning water was nearby front and left, Stenson missed to the right, chipped to seven feet and missed that. 9-under for the round, he needed a birdie at seventeen and an eagle at the par-five eighteenth for the magic number. Darned near did it, too, just missing from seven feet at seventeen (and considering all the long ones he made today) and got on in two at eighteen and made the 27-footer for eagle. It was the fifth round of 60 or better (and the "better" being Ian Poulter's 58 at Harbour Town) on the PGA Tour this year.
Howell started with four consecutive birdies before making bogey at five when he missed the green then missed from eight feet. As with Stenson, Howell dialed long distance on the greens, making six of ten feet or better.
A pair of Jasons, Day and Gore, also shot 63 and moved to within two shots of the lead at 11-under par.
Day, who finished up his day with four straight birdies, also eagled the drivable fourth. 294 and the pin was on the far right at its most accessible. Except that Day landed on the green and rolled off the back. Then chipped in.
Unlike Day, who had two bogeys, Gore had none while also having the shot of the day. That came at seventeen. At 412, it's not that long (for these guys). But you can lay back with a shorter club and come in from 150-160 or try and draw it around the dogleg, avoiding the bunkers and mounds and land in a moderately generous landing area with about 100 yards to go. Or, you could be Gore and smack the ever-loving daylights out of the ball and leave only 71. And hole that shot out.
Chris Kirk didn't shoot 63. But he did shoot 64 and that allowed him to join the party at -11. Kirk had no bogeys and finished birdie-birdie including hitting to three feet at seventeen and, going for the green in two at eighteen, pulled his second, getting the distance right but was off line by 30 yards. With a testy pitch and without a lot of green to work with, Kirk hit a beauty of a flop shot that almost went in.
Two-time winner Jimmy Walker (64 and no bogeys) and Dustin Johnson, who had back-to-back seconds at the Honda and Doral (67) are tied for sixth at -10 with David Howell (64), Bubba Watson (66), Keegan Bradley (66) and Justin Rose (69) rounding out the top ten at 9-under
THE CUT LINE:
It's very generous with 70 (and ties) out of 100 sticking around. So, unless the first two rounds were really poor, even those who didn't play that well have a chance to bounce back, earn some decent points and possibly stick around for the BMW next week. 2-under, by the way.
That being said, 72 made it to Sunday and Monday (Labor Day finish on this one). Those below #70 on the Fed Ex list who missed the cut and whose seasons are ending here are: Kyle Reifers, Stewart Cink, Sang-moon Bae, Brendon de Jonge, Scott Piercy, Cameron Smith, Retief Goosen, Ricky Barnes, Mark Wilson and Boo Weekley.
THIRD ROUND:
Seven playoff rounds and this was the first with anything more than a light breeze. It brought the scores up about a shot-and-a-half from yesterday but the course was still playing under par. And Henrik Stenson, looking to make it two playoff wins in a row, is still the man. But first…
Camilo Villegas was up with the chickens this morning, shot a day's best 62 (matched by Branden Grace) and was on his merry way even before the leaders teed off. And, though he never got the lead, he left within a shot of it and finished the day in the top five.
Villegas lit up the front nine to the tune of 29. Five birdies and an eagle with four of those approaches, eagle including seven feet or closer. He also had what could be the shot of the year at three. A par three playing at 209, Villegas pulled his tee shot just left of the green. He landed in a divot. OK, I guess people pitching to the other side of the green, where the pin was, can leave a divot. Or maybe is was an old ball mark from someone else with a shot like his. Using his putter, he drained a multiple breaker from 95 feet for birdie. The back nine was a bit quieter with a three-putt bogey at the par-three eleventh along with three other birdies.
Grace also shot 62 and that got him into second place and within three of Stenson. He had five birdies and an eagle in the first seven holes and, though he finished up with a pair of birdies, pretty well coasted from there. A couple highlight: At the 209-yard, par-three third, Grace feathered a 5I to over a bunker and to within four feet of a tight far right pin location. At seven, he blasted a 354-yard drive at the 592-yard hole. Makes the approaches easier as he came in with a 4I from 238. Pushing it right just a bit, it was still close to pin high and he finished off his eagle with a 39-foot putt.
As noted, Stenson is still the man to beat. Tied for the lead coming into today with Charles Howell III, Stenson's 65 moved him ahead of the field by three. He had a slow start with a third hole bogey, coming up short and not chipping especially well. His first birdie didn't come until seven. On in two and 35 feet past the front pin, he two-putted for his "4." Then, it was a birdie at nine on a PW to four feet before a 5-under back nine of 30 which included a near hole-out at ten, an approach to five feet at thirteen, a 49-foot putt at the par-three sixteenth and just rimming out from seven feet for eagle at the last, all birdies.
Howell slipped a bit, his 73 making him the only man in the top ten to be on the wrong side of par. Some missed greens, two three-putts and a half dozen bogeys will do that to a guy.
THE REST OF THE TOP TEN:
Chris Kirk shot 67 to move into third at 15-under, four shots back. Then, it's Jason Day (68) at -14 with Matt Jones (67) and Jason Gore (70) joining Villegas at 12-under. And, in a four-way tie for eighth are Marc Leishman (66), Phil Mickelson (68), Dustin Johnson (70) and Howell, already noted.
SHOT OF THE DAY:
Numero uno, maybe the shot of the year, has to be Villegas' 95-foot putt at three.
Numero dos was Nick Watney's effort at four. A drivable par-four, at least by distance (307), the hole was far left at a narrow part of the green and behind a bunker, or at its most inaccessible. Watney laid back with a 3W then holed out from 57 for eagle, the only one at the hole today.
FINAL ROUND:
Henrik Stenson picked a fine time to get hot, winning his second straight playoff tournament and guaranteeing that he'll go into East Lake at number one on the points list.
Truth be told, Stenson, who was never headed over the 24 holes and shared or had the outright lead for the final three rounds, has had a pretty good year considering he's gone to the (PGA) post only fourteen times. Two consecutive wins now, back-to-back seconds at the US Open and Open Championship (though, in real life, he played in between at the BMW tourney in Germany and finished second), third at the PGA, fourth in the WGC event at Shanghai and fifth at Arnie's Honda Classic. He has a 2,600+ lead in points and, with seven top-fives and nine top tens, trails Jordan Spieth in money by a bit more than $800,000. And Spieth has had nine more starts.
Enough accolades. Starting the day with a three-shot lead over Branden Grace, Stenson quickly opened it to four after a PW approach to two feet at the first hole. But a two-shot swing at four made things a bit interesting. At 293, it's drivable. And, with the pin right center, it was teasingly approachable, as in just a bit left of the right edge of a bunker that fronts about three-quarters of the green with the stick not too far behind it. Stenson had honors and tried to draw the ball in from the more exposed right side of the green. But he over-cooked it and landed in the bunker. Grace went for it, trying to land his ball either in the rough between the bunker and the green or maybe even the fringe. He got the rough but no bounce. Stenson hit on but three-putted, missing from four feet to save par while Grace chipped close and made birdie.
Grace stayed within two until just missing the green at the par-three eighth then missed from five feet for par. Stenson extended the lead to four with a 9I to five feet at twelve while Grace missed the green at thirteen and made bogey, stretching the lead to an insurmountable five shots. Using 20/20 hindsight, it was insurmountable at two. Up by five Stenson still went for the green in two at eighteen when he could have easily avoided danger and laid up. In a bit of a nail-biter, he cleared the hazard by not too much, landing in the front bunker. But, as the green slopes away from the back left pin location, Stenson's sand shot ran away. So, what did he do? Sank a sixteen-footer for birdie.
So, after overcoming a three-shot deficit to start the final round at the Barclay's, Stenson made this one look a hell of a lot easier, winning by six at 25-under with a final round of 65. Grace (68) finished second at -19. Jason Day (68) and Chris Kirk (69) split the show pool at -17, Kirk moving from 64 to Atlanta as he moved up 47 spots. Bubba Watson finished with a rush at 63 to tie for fifth with Dustin Johnson (66) at 16-under. Brooks Koepka (65) and Matt Jones (68) tied for seventh at -15. Phil Mickelson (69) finished ninth at -13. And, in a four-way tie for tenth at -12 were Brian Harman (64), Keegan Bradley (69), Alex Prugh (69) and Marc Leishman (70).
SHOT OF THE DAY:
Rickie Fowler at four. Unlike Grace, Fowler got his ball to land in the rough and bounce on, rolling to five feet. And he made the putt for eagle.
That was the good news, as his final round of 70 and a four-day total of 9-under didn't earn him enough points to reach the next plateau as disappointing season (no wins, three top tens with none since The Masters) comes up fourteen points short of the final playoff spot as he needed just one more shot that would have sent him from a tie for 26th into a tie for 21st. That would have been enough.
THE POINTS DO MATTER:
It's top 70 in the final playoff event at Butler National before the points are reset in advance of the 30-man shootout in Atlanta. No cuts at either.
Those from 71-100 who will be playing next week: Rory Sabbatini (71 to 68), John Peterson (72-70), Adam Scott (75-65), Camilo Villegas (81-66) and Marc Leishman (87-57).
If five outside the top 70 advanced, then five who were inside the top 70 coming into this Labor Day weekend must leave: George Coetzee (69-76), Shawn Stefani (68-82), JB Holmes (66-71), Patrick Reed (65-78) and Jeff Overton (61-72).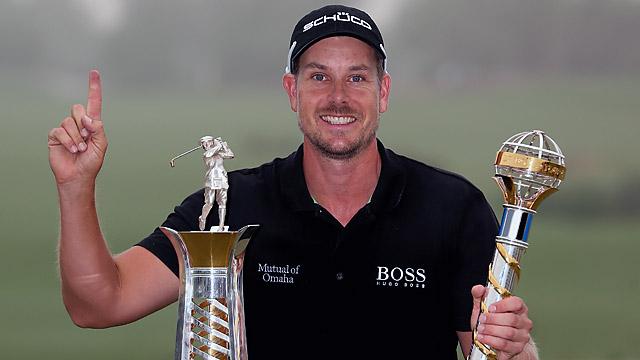 HENRIK STENSON (-25, wins by six) strikes again!
Two playoff events and he's won them both after not winning during the regular season.
At this point, he's got to be considered as the heavy favorite to win the Fed Ex Cup. 
Playoff Event #3
BMW Championship
Butler National
Oak Brook, Illinois
$8.25 million
FIRST ROUND:
No, Butler National has never hosted a playoff event. Nearby Conway Farms (30 miles or so) has. But, like the two other courses that have hosted this tournament, Crooked Stick and Cherry Hills, Conway Farms is quick play. And that won't do for a tournament such as this. But Butler National has the lineage as this tournament can date itself back to the old Western Open, which held the tourney from 1974-90 before deciding that they'd rather stay all male, presumably white, and lose the tournament rather than bending to popular pressure and admitting women and/or non-whites and has been upgraded since because, as difficult as this course can be, these guys would slaughter a 1980s-era course. It'll 70 players in a no-cut tournament vying for 30 spots at the Tour Championship at East Lake.
As a reminder that this course will humble most–not US Open humbling but humbling enough, please note Will Wilcox. 7-under through twelve and mostly with the putter as the shortest birdie putt, with two exceptions was seven feet with most between ten and twenty. The exceptions were hitting a 7I at the 199-yard eleventh to two feet and immediately following that by reaching the par-five in two and rimming out from seventeen feet for eagle. Then, Wilcox missed the green at the par-three thirteenth and made bogey. And then he under-clubbed an 8I approach at fourteen and missed from seven feet to save par. Finally, he missed the fairway at seventeen, then missed the green into the deep left front bunker, then got more ball than he bargained for and flew over the green, then on in four and two putts for double-bogey. And 7-under (and no one else in the field even saw -6) became 3-under. In the grand scheme of things, he's still only two off the lead and still in the top ten.
It's three at the top at -5: Jordan Spieth, Charles Howell III and Adam Hadwin.
With just seven pars, Spieth was all over the place. The end result was pretty good with eleven fairways and number one in putting. His shortest putt of the five non-par-five birdies was nineteen feet and sank a 39-footer at thirteen. He also pulled his approach into the water at fourteen. But he recovered for bogey, getting up and down from 93 to two feet. And he three-putted at seventeen, though the first putt was from 66 feet.
Howell played an uninspired even-par front side. But something inspired him on the back nine as he birdied the first four. As with Spieth, it was the putter–20, 9 and 11 feet with a par-five thrown in–on in two, by the way. Fifteen is the final par-five. At 583 and a hard dogleg right, it's difficult to get home in two. But Howell nearly holed out his third from 41.
Hadwin had a couple bogeys. But he also had an eagle at twelve. A short par five of 482, laying up isn't an option unless you spray your tee shot into the trees as they're tight to the fairway in the landing zone. Wouldn't want to make the hole too easy, right? Hadwin missed the fairway, but didn't miss the green from 227, rolling about a club past the pin but making the eagle putt.
Six are tied at 4-under: Dustin Johnson, Adam Scott, Jerry Kelly, Cameron Tringale, James Hahn and George McNeill.
And ten more are tied with Wilcox at -3: Jason Day, Bubba Watson, Jim Furyk, Jason Gore, Marc Leishman, Brendan Todd, William McGirt, John Huh, Gary Woodlan and Daniel Berger.
SHOT OF THE DAY:
Rory McIlroy at seven.
Par-five 623, meaning even he likely wouldn't make it on in two. As the hole follows the meandering Salt Creek, the second shot would be a treacherous one over the creek, over some trees and, depending on the angle, maybe over a bunker, too, and to a small green. McIlroy laid up and then holed out from 61 for eagle, the only one at that hole today. He also had five bogeys but still managed to keep it under par with a round of 70.
SECOND ROUND:
For some reason, the course played a shot harder today. Wasn't the weather as conditions were perfect again, as they've pretty much been throughout the playoffs. Same group of 70, so no difference there. Pin placements, maybe? Dumb luck? Who knows? In any case, Adam Hadwin shot his second consecutive 67 to take a two-shot lead at 10-under.
Hadwin's long bogey came at three when his drive ended up next to a tree root and he had to take a drop. After that, all birdies and pars, two of them on putts of 2o feet or more and three others coming in at just under ten feet. But his best effort was a par at fifteen. A par-five, Hadwin put his short third out of the rough into the deep front bunker. Facing an essentially short-sided shot as the pin was up front, Hadwin hit a beauty to two feet.
Jason Gore also shot 67 and moved to solo second at -8. After a tee shot into the water at the par-three thirteenth that he managed to salvage for bogey, Gore ran off four straight birdies including a chip in from just off the back of the green at seventeen.
Jim Herman (65) and Dustin Johnson (69) are tied for third at 7-under. For Herman, it came with an eagle at fifteen. With a lengthy second thanks to a dogleg in just the right place and a deep bunker fronting the green, getting on in two is a near impossibility. Short of the bunker, Herman pitched in from 35. As for Johnson, 1-over through thirteen, he finished with a kick as he birdied four of the final five. Even at 389, he tried his darnedest to drive the green at sixteen, banging it out there 346. He got up and down from 43 to five feet.
After that, four are tied for fifth at 6-under, led by Justin Thomas' 65. Also included are Brooks Koepka (67), Adam Scott (70) and Jordan Spieth (71). No matter how well Spieth does, he can't catch Henrik Stenson. But he should go into Atlanta at number two, though Koepka might have something to say about that, maybe even Jason Day. More about Stenson in a sec.
The remainder of the top ten is at -5. Sergio Garcia (67), Brendon Todd (70), Jerry Kelly (71) and Charles Howell (72).
HENRIK STENSON:
In a no-cut tourney, he'll get points. And, having won the first two playoff events, he's guaranteed to march into Atlanta (yeah, like Sherman) as the man with the most points and which will give him a 200 point edge on number two (either Spieth, Koepka or Day) and 400 on number three (same three).
It seemed Stenson took this week off. At least he'd better hope that with the Tour Championship coming up next in two weeks. At 72-77 (+5) with nine bogeys or worse, he would have been on the wrong side of the cut line had there been one. "Worse" came today at the par-three fifth. 229, all carry and he hooked a 5I into the drink. On in three, he three-putted from 26 feet.
SHOTS OF THE DAY:
Spieth at one. After butchering a PW approach, he pitched in from 45 feet out of the rough for birdie.
Koepka at three. 435, par-four. A dogleg right, these guys will fly the ball over the trees and try to cut as much distance off as possible. Koepka cut about ten yards off the published distance but didn't quite make it to the fairway. No big deal, he holed out from 101.
THIRD ROUND:
Adam Hadwin shared or had the outright lead the whole day. Mostly, it was as the outright leader staving off a late threat by Jordan Spieth to maintain his two shot edge, now at 12-under.
Hadwin's first minor threat came from his playing partner, Jason Gore. Gore started two shots out of the lead then birdied one and four to pull even at -10. But he missed the green at six and bogeyed. Then God only knows what happened at the par-three eighth—a tee shot over Salt Creek with the creek framing the green front and right as he seriously under-clubbed a 6I, as in about 30 yards worth. That was good for a double-bogey. Then, at thirteen, Gore hooked his tee shot at the par-three. With the far right pin placement, the water shouldn't have come into play. But Gore came up about ten yards short of dry land and, after a re-hit, racked up another double-bogey. No creek this time as this was one of about a half dozen lakes that dot the course. But Gore was up the creek. And 10-under became 5-under no thanks to a round of 75.
Spieth, who shot a 68, started four back. Of his five birdies, he made only one putt of any serious length, that being 27 feet at ten. Otherwise, except for the two-putt at the short (482) par-five twelfth that even he could reach, his birdies all came when he hit fairly close and he got to within a stroke of Hadwin after making birdie at fifteen—the other par-five on the back side. Spieth made only two mistakes all day. The first came at fourteen when he hit to eight feet and he ran his birdie effort just past. The other came at the last when he hooked his 5I approach from 213 into the creek. If there was a silver lining, he took his drop then got up and down from 106, making an eleven-foot putt to salvage bogey.
Now for Hadwin… Pars for the first four, the final two in that sequence on scrambles, allowed Gore to pull even. The fifth is 224, 200 just to clear the water. And with the pin tucked behind a bunker, Hadwin went for the center of the green. His 4I rolled to the back but he made a 37-footer for a birdie that would give him the lead for good today. Birdies at seven and nine closed out the front side.
The back nine was a bit shakier for Hadwin. He bogeyed the par-three eleventh when he put too much mustard on a 6I and he flew the green. But he bounced back with a two-putt birdie at twelve only to give it back two holes later on a three-putt. At the short sixteenth (378), he laid back off the tee so he could go in with a full PW. To six feet and a birdie. That put him up two on Spieth. But, as Spieth had bogeyed the last, so did Hadwin. But Hadwin kept his ball dry, pulling it a hair and barely making it over the creek. But his chip ran away on him and he ended up with bogey.
So, Hadwin (70) sort of finished where he started, still up by two only the guy in second is different. After that, Jim Herman (70) is in third at -9, Jerry Kelly (69), Adam Scott (70) and Dustin Johnson (71) all in third at 8-under, Will Wilcox (67) and Justin Thomas tied for seventh at -7, Matt Kuchar (70) in ninth at -6 and nine more at -5: Keegan Bradley (66), Russell Knox (66), Rory McIlroy (68), Jim Furyk (68), Jason Bohn (69), George McNeill (71), Sergio Garcia (72), Brooks Koepka (73, and which made Spieth happy because Koepka is only 400 points behind while Jason Day is at -2 and he's only about 75 points behind) and Gore (75).
FINAL ROUND:
The good news for Adam Hadwin, who's led the last two rounds is that, unless he truly tanks, he's heading to Atlanta. 33rd on the points list coming in (meaning no Atlanta trip if he didn't perform well this week), he could walk out of here likely no worse than fifth with a win. But I'm writing this before Ian Poulter hits the first tee shot of the day. At #56, Poulter was pretty well cooked before he got here as he had to finish top five to even get a whiff of East Lake. His playing partner, Charl Schwartzel, had a rough tourney and at 16-over and playing the worst golf of anyone this week and by seven strokes, no less he'll be playing for pride (and maybe a three-hour round) today. Too bad because, at 34th coming in, a decent finish might have seen him extend his season by one more event.
The bad news is that Hadwin couldn't hold the lead. The good news was that, with his third place finish he'll move from 33rd to 11th on the Fed Ex list and guaranteed a spot in the Tour Championship.
Hadwin started up by 2 at 12-under. He birdied the par-five third. But the field came to him when he pushed his tee shot into the lake at the par-three fifth and he ended up with double-bogey.
Jim Herman, playing immediately in front of Hadwin and who started three back, birdied the first two and was tied with Hadwin at -11 while Hadwin's playing partner, Jordan Spieth, not only looking for win number five this season but who would also be making a statement with a win prior to Atlanta, though it wouldn't help him get back to number one in the points race which is where he resided much of this calendar year only to be overtaken by Henrik Stenson, who won the previous two playoff events, had a birdie and bogey to show for himself and was exactly where he started at -10.
But Spieth rolled off the back of the green at six after taking aim at the back pin location and made bogey to fall two behind.
Only Herman birdied the lengthy (630) par-five sixth, hitting his third to ten feet, and he had a one-shot lead at -12. He got to -13 after hitting to the wrong side of the fairway at nine as he had a tenuous approach along the treeline. But he hit to nine feet anyway and made another birdie. Spieth would hit to four feet and would make birdie to get to 10-under with Hadwin running off four pars to close out the front nine at -11.
But Herman got himself into trouble at ten. The approach is over the Salt Creek (Herman had a different name for it), so you know where this is going. But, for some reason, he laid back off the tee with a 2I. There's a lake on the left at about 265 and a bunker right at about 285 and the fairway narrows up noticeably about there, as well, so maybe he just wanted to keep it in the fairway, which he didn't, his ball rolling a couple feet into the rough. He caught his second heavy from 205 and into the creek it went and he ended up with double-bogey. Spieth and Hadwin parred as Hadwin now had a piece of the lead again with Spieth a shot behind.
All parred the par-three eleventh and all birdied the short par-five twelfth, none truly threatening to make eagle. At the par-three thirteenth, Herman hit pin high and made the sixteen-footer for birdie. Same thing for Spieth, except from nineteen feet while Hadwin hit past the pin but ran his birdie putt just past. So, with five to play, Herman (-13) led Spieth and Hadwin by a stroke.
Herman parred the fourteenth. So did Hadwin, though he rolled off the back on his approach and chipped to two feet. But Spieth hit to the safe side of a tenuous pin position behind the lake and not too far from the left bunker and trusted his putter. He made the thirteen-footer for birdie to pull even with Herman.
Fifteen is a three-shotter and all made par at the par-five.
Sixteen is a short par-four of 379. Yes, the pin was tucked in behind a deep bunker but, with a short iron approach, should have been more accessible than it appeared. But none of the three threatened the hole and all walked off with pars.
Seventeen is a longer par-four, 478 with the pin in the way back. None of the three got truly close with Hadwin taking dead aim but bouncing just off the back. He chipped close and made his par as did the other two.
From the air, eighteen looks like a double dogleg even though it's a par -four. In reality, you could hit a straight 3W about 275 or take the driver and flirt with the right side rough and a pond a bit while trying to bang the ball out to a narrow-ish fairway. And don't stray too far left as a tree awaits at about 300. A deep bunker separates the green from the Salt Creek to the left with another deep one on the right with the pin closer to that left bunker. Hey, it's Sunday; what would you expect? Up first, Herman hit a 3W to the right side of the fairway and steered clear of the trouble on the left. Leaving himself a lengthy birdie putt of 38 feet, he was a bit too gentle with his lag and had to make a nine-footer to save par which is all he was shooting for in the first place, though he did it the hard way. In the final twosome, it was Spieth with honors. Flirting with the tree on the left, his 3W was 30 yards behind it and he had a line to the green. Hadwin also went for the 3W, hit it down the middle and trusted his approach and maybe his putter. Up first, Hadwin hit a 5I to the center of the green from 198, a bit right of where he wanted to end up as he couldn't seem to engineer a baby draw. Playing for nothing worse than par, Spieth parked a 6I from five yards closer to sixteen feet. Up first from 21 feet, Hadwin's putt ran just past. From sixteen feet, Spieth's putt just skidded by as Spieth thought he had it.
So, Herman and Spieth will be heading to a playoff as, though finishing third, Hadwin gets his ticket punched to Atlanta. Herman, who had a pretty good run between the Greenbrier and the Canadian Open (second, then sixth at the John Deere, twelfth at the Open Championship and fourth in Canada), is looking for his first win of the year and who, at 44th in points coming in, is guaranteed a trip to East Lake no matter how the playoff turns out, while Spieth is guaranteed to go to Atlanta second in points behind Henrik Stenson, who stunk up the joint this week (+10, beating only Charl Schwartzel) but who won the previous two playoff events.
THE PLAYOFF:
It'll start at eighteen, Herman drawing the "1" and teeing off first. Both went with 3W, middle of the fairway and 270 for Herman with Spieth a bit to the left of that and ten yards behind. Up first, Spieth went with a 5I from 203 that rolled to the back of the green and would be putting from just under 50 feet. Herman hoped to get a bit closer but was also on the long side–43 feet but, at back left, not on the same line as Spieth, so no going to school. The putt is a bit downhill, especially as you get closer to the hole and Spieth made an egregious judgment of its speed, his putt running right off the green. Herman was saying to himself, 'Just get it close. Just get it close.' He did better than Spieth, but his putt ran away a bit also–six feet past. So, if Spieth's putter didn't work this particular time, his chipping club did. Instructing caddie Michael Greller to pull out the stick, Spieth chipped in. Waiting for the crowd noise to die down, Herman a bit less than calmly sank the six-foot uphill putt.
Herman congratulated Spieth on a chip well done as they made their way to the sixteenth hole. He hoped it wouldn't be the last time he would have to congratulate him.
Herman teed off with a 2I, the same as he had done about an hour ago, the last time he played the hole. There are two strategically placed bunkers, the first on the right at about 280 at which point the fairway narrows from its generous 30 yards. Herman wished to play short of the bunker. And, again, he pulled it and just missed the fairway. And, as Herman was licking his chops after Spieth ran his putt past on the first playoff hole, so was Spieth as he had a wide open fairway to shoot at. And which he did, also with a 2I that went about 250. Up first, Herman's PW was a bit of a flyer and he was well past the front pin but still on the green. He'd be looking at a 35-foot birdie putt. And Spieth licked his chops some more. And yet, somehow, he pushed what should have been a routine PW from 131, missing the green entirely. Up first, Spieth pitched on, his ball releasing a bit and rolling nine feet past. Knowing that Spieth is deadly with his putter, Hearn couldn't rest in knowing that he could two-putt and win. His putt was right on line but veered off a bit as it slowed down and he just missed, tapping in for par. And, from nine feet, the number one putter on the PGA Tour just missed, his ball catching the edge of the cup and rolling just past.
So, Herman wins his first of the year at a most opportune time with the points earned moving him from fairly well outside of qualifying for East Lake last week (44th) to third behind Stenson and Spieth.
THOSE OUTSIDE THE TOP 30 WHO QUALIFIED FOR THE FINAL:
Besides Herman (44 to 3), there's Matt Kuchar (31-22), Adam Hadwin (33-11) and Jason Bohn (45-28).
THAT MEANS FOUR INSIDE THE TOP 30 ARE DONE FOR THE YEAR:
Webb Simpson (28-32), Daniel Summerhays (27-36), Matt Jones (24-34) and Hideki Matsuyama (20-31).
JIM HERMAN 
Defeats Jordan Spieth in a two-hole playoff and vaulted to number 3 on the Fed Ex list with the finals upcoming.
Here, Herman looks ecstatic (sarcasm) as his golf cart has been hijacked (or cartjacked) by an egomaniac
with a bad comb over reminding everyone to get their prostates checked.
Tour Championship by Coca-Cola
East Lake Golf Club
Atlanta, Georgia
$8.25 million
FIRST ROUND:
After three tournaments on easy street, the surviving thirty had to endure running fairways (good), hard greens that weren't holding (not good) and a stiff breeze (also not good). And only four broke the par of 70.
#5 Brooks Koepka led the way with a 3-under 67. Even with only eight fairways and eleven greens hit, Koepka had no bogeys. Like proofing a scorecard in baseball, that means Koepka scrambled successfully seven out of seven. But there's also something called "The Law of Averages" and everyone eventually makes their way back to the middle. Highlights: With a wind-aided 346-yard drive at the par-five ninth, even hitting into the trees didn't hurt Koepka as he hit close to the lake and had a clean opening when 10-20-30 yards farther back and he's in the jungle. On the green from 263 with a 3I and two putts. Another highlight came at the other par-five at fifteen (there are only two). Fairway bunker on the drive, 5I out but to the right greenside bunker. Then a long bunker shot to the back pin location to three feet and another birdie.
#14 Dustin Johnson is at 68. And he recovered from early bogeys at three (bunker), four (just missed the bunker) and six (just missed the water). Except for the par-three second (four feet), Johnson never threatened the hole on his approaches making non-par-five birdie putts of fifteen feet (at twelve) and seventeen feet (at eighteen). He also got on in two at both par-fives and made birdie there. Helps when you can drive the ball 366 as he did at nine.
#17 Robert Streb is also at 2-under. He birdied both par-fives but also dialed long distance at his three non-par-five birdies–36 feet at three, 21 at four and 38 at sixteen. He also might have been the man in the lead if not for hooking his tee shot into the water at seventeen and making double-bogey.
The last under par man is #24 Chris Kirk at 69. Under water at the turn after two bogeys and a birdie, Kirk got under par with back-to-back birdies at the par-three eleventh (a 5I from 194 to seven feet) and the par-four twelfth (a PW from 129 to eight feet). But he rolled off the back of the green with his approach at thirteen and made bogey but got under-par for the day at seventeen with a driver/6I combo to four feet.
The folks at even par are Jordan Spieth, Rory McIlroy, Zach Johnson, Matt Kuchar and Danny Lee.
SECOND ROUND:
Heavy overnight rains softened up the course and turned it into target practice–about three shots easier than yesterday. No wind, either. And, as only four broke par yesterday, today it was 21.
Yesterday's leader, Brooks Koepka, didn't shoot the round of the day, but did shoot well enough to maintain the lead.
Koepka shot a 4-under 66 to lead by a shot at -7. Some nice putting in there with birdie putts of fourteen feet at four, nineteen feet at seven, 21 feet at ten and thirteen feet at fifteen when he did a yeoman job of making birdie after his second out of the rough at the par five clipped a tree and went 60 yards. He also just missed the green on the short side at the par three last and chipped in from 25 for his final birdie of the day. Koepka also had his first two bogeys of the tourney–the first at eleven when he three-putted after his first effort came up six feet short, and the other at thirteen when he pushed his tee shot just a little. Stymied a bit by a nearby tree, he tried to run a low 3W to the green but came up 60 yards short and couldn't get up and down.
The round of the day was shot by one of the men behind Koepka, Billy Horschel with a 63 to move to within a shot at 6-under. Though nearly holing out with his approach at twelve, Horschel did his best work with the flat blade. Nine feet at one, seventeen at four, twelve feet at six, 32 feet at fourteen and 23 at the last.
Also tied at -6 are Dustin Johnson and Robert Streb, both of whom shot 66. Johnson did all his birdie work on the front nine as he played par golf on the back, scrambling only once, while Streb hit close at twelve then followed that by three-putting the thirteenth. He also made a heck of a birdie at sixteen when, after pulling his tee shot, he had just a wee bit of a look at the green and got an 8I there then sank a 26-foot putt.
After that, it's Paul Casey (65) three shots back at 4-under. Then, it's Pat Perez (67) at -2, meaning sixth place is five shots out of the lead. The tie for seventh at 1-under goes down to fourteenth, or just about half the field. Branden Grace (67), Jerry Kelly (68), Will Wilcox (68 and the shot of the day), Zach Johnson (69), Rory McIlroy (69), Matt Kuchar (69), Jordan Spieth (69) and Chris Kirk (70).
SHOT OF THE DAY:
Wilcox at fifteen. A slightly doglegged and reachable par-five of 511, the tee shot is a hair downhill with the fairway canting to the right or toward two fairway bunkers that start at 280, or about where the fairway narrows to nearly 20 yards, meaning that it might be wise to keep the driver in the bag. Not for Wilcox, whose came up just short of the bunker, strange really, because he's been averaging 317 and maybe he thought he could smoke it over the bunkers. Hey, good miss. From 231, his 2I second rolled to within three feet of the hole and he made eagle.
PLAYOFF PERMUTATIONS:
It appears the game is playing at the old 2,500 point method where playoff winners get five times the points than what's normally given out during regular tour stops and which was also the reset point for the Tour Championship. Starting in '15 it became 2,000.
The man in front is Henrik Stenson, who won both the Barclays and Deutschebank, those 5,000 points zipping him to the top of the points standings and he's the man at 2,500 (under current rules, it's 2,000) as the points are reset prior to this tourney. But he's also tied for nineteenth at 1-over, meaning he has some work to do.
If the tournament ended now, Koepka, who came into the final in fifth place, would be the winner. But it ain't over yet. And, if Koepka won (4,100 points total) and Spieth finished second or third, Spieth would win the Fed Ex championship. I think.
THIRD ROUND:
Like the story of the three bears, the course wasn't hard and fast with greens not holding (Thursday); it wasn't squishy with shots to the green little more than target practice (yesterday). No, it was just right, as benign as could be. And the man of the day was Billy Horschel as the leader for the first two days, Brooks Koepka, faltered.
Horschel shot the round of the day, and by three shots, with a 6-under 64 to not only move into first place, but by four shots. The good news is that, if Horschel wins, he'll take home the winner's share of the purse ($1,485,000). It'll also give him a moderately decent chance to win because at 2,940, that would require Spieth to finish fourth or better to win the $10 million. And, with points leader Henrik Stenson (67 today) moving up into a tie for eleventh, well, that's another fly in the ointment as Stenson could finish seventh or better and elbow Horschel out of the way.
Anyway, for Horschel, it was no bogeys for the second straight day as it's been 37 holes since the last one. At four, he hit a 7I approach out of the rough to three feet and followed that by blasting a 341-yard drive at the par-five fifth and hitting an 8I second that he nearly holed out for double-eagle. Poor boy, had to settle for a tap-in eagle. Horschel also knocked in a 31-foot birdie putt at ten. He also had to scramble exactly once today. He leads by four at 12-under.
Koepka faltered with a 1-over 71 to fall three notches and six shots behind Horschel. The front nine was a bummer with back-to-back bogeys on four and five. Same MO—missed fairway followed by a missed green. He also had a rough go at eight when he pulled his tee shot into one of three fairway bunkers that more than dot the left side of the sweeping dogleg. Facing a fried egg he was able to blast out but there was no way he could get home, even from 153. On in three and two putts for bogey.
The man in second is Robert Streb at -8 after a round of 68. At seventeenth in points coming in, like Horschel, he can fatten his bank account and certainly get a big feather in his cap if he wins the tournament. But, barring catastrophic collapses by multiple golfers, he can't win the big bonus. And I don't think even a catastrophic collapse is enough because even the 30th place player gets about 200 points or more than enough for Stenson or Speith to handle Streb. The only way Streb can win is if Godzilla shows up and eats the other 29 for a snack.
Paul Casey (#30) is in third at 7-under after a round of 67. He's in a leakier boat than Streb is when it comes to points and, like Streb, can certainly help himself out with a big finish. He had a big start today with birdies at one, three and four and all on putts from long distance. In order: 35, 33 and 26 feet. After that? Eh, with four bogeys canceling out two birdies and an eagle (3I from 269 to nine feet) at nine. Must be nice to be able to hit a club—any club—that far.
Jordan Spieth (67) is tied for fifth with Branden Grace (67), Pat Perez (67) and Dustin Johnson (72) at 4-under, eight shots back. As the Fed Ex points system only worries about finish and not how many strokes back someone is (That would be a nice wrinkle!), if the tournament ended now, Spieth would win the $10 million.
Daniel Berger (67) and Jerry Kelly (68) are tied for ninth at 3-under with Stenson (67) among a group of five tied for eleventh at -2.
IF THE TOURNAMENT ENDED NOW:
Spieth would win the $10 million.
Generally speaking, it appears that, if Spieth finishes two spots or more in front of Stenson, Spieth would win though, if Spieth finishes second, Stenson could finish third and the 500 point difference between second and third would be enough.
If Koepka wins, it doesn't matter what Spieth does as the difference between first and second in a playoff tourney is 1,000 points and Koepka trails Spieth by 650.
Koepka could also win if he finished second with Spieth fourth or worse.
FINAL ROUND:
Soft and without much roll, but lift, clean and place and target practice.
In an uneventful finish to the tournament, Billy Horschel opened the day up by four, was never threatened, never leading by less than two at any point, and led by five from the thirteenth hole on, shooting a 66 to win by five.
Even with two early bogeys–a missed fairway and green at five and a pulled drive into the trees at eight necessitating Horschel to take a penalty drop, he still never led by less than two. And that came after the second bogey at eight. But an eagle at nine, thanks to a 3W from 284 to thirteen feet, opened some daylight with a 33-foot putt for birdie at the par-three eleventh, a 5I from 200 to eleven feet at thirteen and another birdie and a missed fairway and green at the par-five fifteenth but a tenuous pitch from 33 over a bunker to four feet and still another birdie, opened even more daylight.
So, Horschel won the tourney and the 2,500 points that came with it.
Now, did Jordan Spieth finish fourth or better or Henrik Stenson seventh or better? Or, for that matter, was Jim Herman third or better?
Easiest answer first. Herman shot a final round 68 and tied for 20th at 1-over. Great season for the 37-year old journeyman who seems to have finally found the formula that'll make him more than that.
More difficult answer next. Stenson was tied for nineteenth after the second round with a third round 67 moving up into a tie for eleventh. Meaning he was heading in the right direction. At 3-under on the day and -5 overall, Stenson was tied for seventh going into the eighteenth. At 239 and a bit downhill, Stenson went with a 4I. But it hung out on him and landed in the right greenside bunker. His bunker shot was a bit aggressive; that's OK, as the green is generally heading uphill. But it went past the hole and a nine-foot curving downhill putt on the eighteenth at East Lake in the final round on the biggest money day on the PGA Tour with a possible $10 million bonus on the line can be a bit unsettling. And Stenson just missed it on the low side. As it turned out, seventh place alone would have put Stenson ahead of Horschel. But, with Zach Johnson (63) and Paul Casey (72) already there, pooling the points for seventh, eighth and ninth and dividing by three would have left Stenson just short of the big prize anyway.
Spieth was tied for fifth coming into today, eight shots back. He parred the first five. Routine stuff, though, since his putting is his strength, it should be noted that he missed birdie putts of eight feet at one and nine feet at five. He was also in sixth place with Robert Streb (-9), Brooks Koepka and Paul Casey (-7) and Pat Perez (-6) in between.
Spieth finally showed some signs of life at six. Though it can play as long as 209, the tees were moved up to 160. Planting a 9I firmly in the center of the green, his putter woke up as he sank a 29-footer for birdie. Which had no effect on the standings.
But three birdies in a row, at eight (22 feet), nine (on in two at the par-five) and ten (a chip-in from just outside of 40 feet) did as it moved him into a tie for fourth at -8 as Casey came up short with his second at ten and couldn't get out of the bunker.
But Spieth slipped back a notch when he caught his approach heavy out of the rough at twelve and landed in the front bunker. And his putter failed him, too, as he missed from six feet for his sandy.
However, Spieth bounced back from that misstep with flying colors, running off three straight birdies. And it was his putter that saved him as he cashed in from 36 feet at thirteen and fourteen feet at fourteen. Fifteen is a par-five. And, though Spieth isn't a long hitter, 520 is certainly reachable in two for him. But not from the far right side of a canted fairway where his ball ended up. To within 50 yards with his second, he parked his third to two feet and just about tapped in for birdie. And, even with that move, at 10-under he was only tied for fourth as Perez and Koepka had gotten to 11-under with Streb also at -10. Casey had fallen back to -6 but Jerry Kelly moving up strongly as he was 6-under for the round and -9 for the tourney. But a two-man tie for fourth would barely be enough and a three-way tie would leave Spieth just short.
Perez, Koepka and Streb all parred the sixteenth. So did Spieth, but with a heck of an approach with an 8I through a small opening in the trees after he pulled his drive and a two-putt par. But it was Kelly who did Spieth the biggest favor by hitting to the wrong side of the green and three-putting from 60 feet as the possibility of a three-way tie for fourth drifted away.
Perez, Koepka and Spieth birdied the seventeenth, Spieth flirting with danger down the left side on both his tee shot and approach. And Spieth got another favor, this time from Streb, as he pulled his ball into the water eventually making a miraculous bogey by draining a 76-foot putt.
So Spieth was all alone in fourth with just hitting the center of the green at the par-three separating him from $10 million.
Which is exactly what he did with a 4I. Well, actually, it was a little short of center, as he left himself 36 feet of an uphill curving putt. Kelly had already parred, so he was stuck at -8 with no chance to tie for fourth. Streb was playing in the final pairing, so, if Spieth bogeyed, Streb could pass him by with a birdie. A par by Spieth meant Streb would have to make a hole-in-one to overtake Spieth.
Spieth was only trying to get close but didn't have quite the right line as his putt ran right of the hole and six feet past. Not exactly what he envisioned. And his par putt was no gimme as he had to aim at least six inches right of the hole. But, as it had done a number of times throughout the round and season, his putter came through and he sank the par putt.
Looking over at the scoreboard, Spieth saw he was in fourth by himself with Streb having only the slimmest of chances to separate Spieth from the bonus.
Spieth signed his card and watched on a nearby monitor as Streb stepped to the tee at eighteen. Choosing a 4I at the 239-yard hole, Streb ended up left and a bit short of the pin, landing in just about the center of the green. As it turned out, it didn't matter whether he birdied or parred as the end result would have been the same–fifth place in the tourney and thirteenth in points. And he just missed, the second-to-last shot of the 2014-15 season being a tap in for par as Horschel made the last one–a four-footer that he could have missed four times and still won.
So, Horschel won the tourney but missed the big prize by 60 points, the difference between some excellent putting by Spieth and/or some untimely bogeys by Kelly and Streb.
REAL LIFE:
Spieth won both the tourney and the Fed Ex Cup. 9-under for the tourney as he won by four over Stenson, Danny Lee and Justin Rose. The Fed Ex race wasn't that exciting as Spieth won that by nearly 1,500 points over Stenson with Jason Day third, Rickie Fowler fourth (his replay season was disappointing) and Bubba Watson fifth.
In the replay, it was Spieth, Horschel (actual 66th), Stenson, Koepka (24th) and Herman (74th) with Day in sixth.
JORDAN SPIETH (left) and BILLY HORSCHEL
Horschel (-16) won the tourney, but Spieth hung on to win the big prize–the Fed Ex Cup.